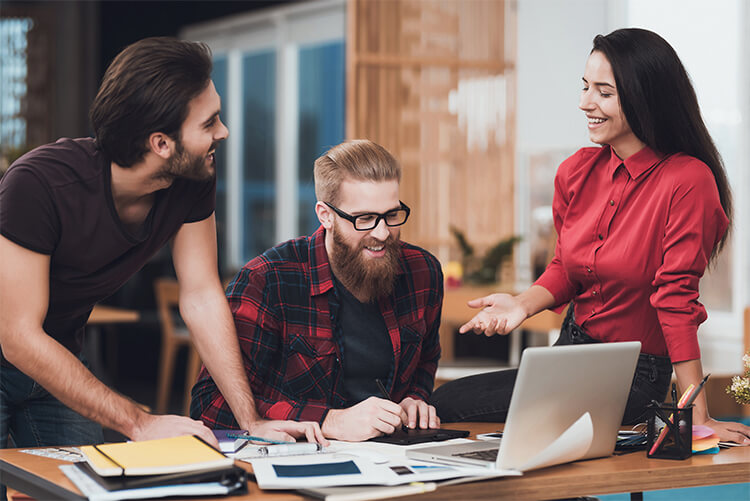 Personal Data Protection Policy
SL-Institute is engaged in an ongoing process of compliance with the General Data Protection Regulations of April 27, 2016. With this regulation SL-Institute has strengthened its policy of protecting personal data so that our users' data is collected and used in a transparent, confidential and secure manner.
Our Privacy Policy describes how SL-Institute processes personal data of visitors and users ('Users') when browsing our www.sl-Institute.com site ('Site'). The Privacy Policy is an integral part of the General Terms of Use of the Site.
SL-Institute constantly pays attention to the data of our Users. This may result in the periodic changes, completes or updates the Privacy Policy. We will also be able to make necessary changes to comply with changes in existing legislation and regulations. If possible, we will notify you of any significant changes. However, we encourage you to check out the latest version on our website on a regular basis.
What personal data is collected and for what purposes?
We collect personal data that you pass on to us and the data we collect.
We use this personal data to enhance your user experience and personalize our services.
When you use our platform and/or when you register, we collect and process personal data about you such as: your first and last names.
We will also ask you to send us your email address in order to use this data for the creation of an account, sending emails of information and notifications, as well as for the newsletter.
We also collect your nickname, avatar, postal address, gender, phone number, IP address, and some information available on your social networks. We will also ask you to send us a mini-biography, or biography, as an optional option. A photo is also requested.
SL-Institute uses Analytics Smart Learning methods to analyze courses taken, exercises, completed chapters, courses and projects. We use this data for analysis and display. This data is used for a variety of aspects, including collecting your user experience and tracking your progress, setting up tracking and statistics based on your motivation.
This data collected from Analytics Smart Learning methods will also be used for the analysis of the Student Success service (progression, tracking, statistics), to offer you relevant and adapted courses and courses.
When you sign up for the platform, you can sign up through Facebook or your Google account. If you connect to our services using the social networking features available to you, including Facebook, SL-Institute will have access to certain data (including your Public Facebook profile, date of birth and email address) of your account on that social network in accordance with the terms and conditions of use of the social network concerned. We are also likely to collect some of your personal data when you interact with features of these social networks, such as the "Like" features.
At the end of your degree, for statistical purposes, we will ask you to complete a questionnaire asking you for some of your data and in particular the title of your position, the name of your employer and your salary.
As part of satisfaction surveys, we can use a Net Promoter Score. You will be asked via this tool to write an opinion on the training followed with SL-Institute.
Why do we use cookies?
We use cookies on our Site for the purposes of browsing, optimizing and customizing our Services on our platform by remembering your preferences.
You can turn cookies off at any time.
Definition of "cookie" and itsuse. A "cookie" is a text file deposited on your computer when visiting our platform. In your computer, cookies are managed by your internet browser.
We use cookies on our Site for the purposes of browsing, optimizing and customizing our Services on our platform by remembering your preferences. Cookies also allow us to see how our platform is used. We automatically collect your IP address and information about the use of our Site. Our platform can remember your identity when a connection has been made between the server and the web browser. The information previously provided in a web form can be retained.
Different types of cookies are used on our site:
Cookies that are strictly necessary for the operation of our platform (mandatory cookies). They allow you to use the main features of our platform. Without these cookies, you will not be able to use our platform normally.
Functional cookies, including so-called "analytic" cookies: To improve our services, we use cookies from audience measurements such as page views, number of visits, user activity and frequency of return, including google Analytics services. These cookies only allow the establishment of statistical studies on user traffic on our platform, the results of which are completely anonymous to allow us to know the use and performance of our platform and improve its operation. Accepting these cookies makes optimal use of our platform, if you refuse them, we cannot guarantee you normal use on our platform.
This also  includes  cookies that

allow us

to customize  your  experience  on

 

our  platform

by

remembering  

 

 your  preferences  (suchas  social media

sharing

cookies).

 

These cookies may be placed by a third party on our behalf, but they are not allowed to use them for purposes other than those described.
Targeting cookies (advertising cookies): These cookies are linked to services provided by third parties, such as the "Like" or "Share" buttons. These cookies

 

are  placed

by third
Types of cookiesused. The following types of cookies are used on this site:
"Temporary" Cookies: This type of cookie is active in your browser until you leave our platform and expires if you don't access the Site for a certain period of time.
"Permanent" or "tracer" cookies: This type of cookie stays in your browser's cookie file for a longer period of time, depending on your web browser settings. Permanent cookies are  also  called tracer cookies.
Use of third-partycookies. We may use third-party partners, such as Google Analytics, to track the activity of visitors to our platform or to identify your interests on our platform and customize the offer addressed to you on our platform or outside our platform. Information that can be collected by third-party advertisers may include data such as geo-location data or contact information, such as email addresses. The privacy policies of these third-party advertisers provide additional information about how cookies are used.
We ensure that partner companies agree to process information collected on our platform exclusively for our purposes and in accordance with our instructions, in accordance with European regulations and commit to implementing appropriate measures to secure and protect data privacy.
Turn offcookies. When you arrive on our website, you have the option to set up your cookies and modify them at any time by clicking here.
You can disable cookies at any time by selecting the appropriate settings in your browser to disable cookies (the help section of the browser used specifies how to proceed).
We draw your attention to the fact that disabling cookies can reduce or prevent access to all or part of certain functions.
Regarding promotional emails: You can withdraw your consent at any time by (i) unchecking the relevant box in your account, (ii) clicking on the opt-out link provided in each of our communications or (iii) by contacting us.
We collect the information you provide us, especially when:
you browse our platform and apps
you create, edit and access your personal account
you fill out a contact form
you fill out an application form to our training offers
you contact our  Servic

e

Client
Is your data shared with third parties?
We legally supervise transfers through contractual commitments with our subcontractors to provide you with a high level ofsecurity.
The personal data about you collected on our platform is intended for own use by SL-Institute and can be transmitted to the subcontractors that SL-Institute can use in the course of the execution of its services.
SL-Institute does not sell or lease your personal data to third parties for marketing purposes under any circumstances.
We also work closely with third-party companies that may have access to your personal data, in particular:
When you specifically request it (for example, when you use authentication methods provided by social networks that allow you to integrate information from your account on their own platform into your SL-Institute profile);
When we use search engine and analytics providers to improve and optimize our platform;
Where we have a legal obligation to do so or if we believe in good faith that this is necessary to (i) respond to any claim against SL-Institute, (ii) comply with any judicial request, (iii) enforce any contract with our members, such as the Terms of Use and this Personal Data Protection Policy (iv) in the event of an emergency involving public health or the physical integrity of a person. , (v) in the context of investigations and investigations or (vi) to guarantee the rights, property and security of the SL-Institute, its members and more generally any third party;
In addition, SL-Institute does not disclose your personal data to third parties, except if (1) you (or your account administrator acting on your behalf) request it or authorize disclosure; (2) Disclosure is required to process transactions or provide services you have requested; (3) SL-Institute is compelled to do so by a government authority or regulator, in the event of a judicial requisition, subpoena or other similar governmental or judicial requirements, or to establish or defend a legal claim; or (4) the third party acts as an agent or subcontractor of SL-Institute in the performance of services (for example, SL-Institute uses the services of a telecommunications company).
If SL-Institute or all or part of its assets are repurchased by a third party, the data in our possession will, if necessary, be transferred to the new owner.
We may aggregate data about you that we receive or send to our business partners, including all or part of your personal data and information collected through cookies. This aggregated information will only be used for the purposes described above.
On request, we can provide you with a list of the countries where we keep your data and where it passes occasionally.
We keep your data in the European Union but we also transfer it outside the European Union to the United States. We have entered into specific contracts and standard contractual clauses established by the European Commission to supervise and secure the transfer of your data to these providers with the US entities to which we transfer your data. We may use the services of U.S. companies to whom we outsource your data to respond to your requests, provide online payment tools, provide us with commercial and advertising services or email and SMS services.
How is your personal data protected?
We make every effort to ensure that your data is protected. We also ask you to ensure the confidentiality of the data.
SL-Institute applies generally accepted technological and organizational security measures to ensure that the personal data collected is not lost, misappropriated, accessed, altered or disclosed by unauthorized third parties unless the disclosure of such data is required by existing regulations, including the request of a judicial authority, police, gendarmerie or any other authority authorized by law.
The security of personal data also depends on users. Users who are members of SL-Institute agree to keep their username and password confidential. Members also agree not to share their account and to report to SL-Institute any unauthorized use of that account as long as they are aware of it.
How long do SL-Institute users' personal data last?
Your data is stored for a limited time to ensure optimal security.
Personal data provided by SL-Institute Users will be deleted after a certain period of time and according to the data processed.
In order to allow members to recover their account in case of password forgetting after an extended period without a connection to the Site, your email is kept security. However, it can be deleted by changing the information in its profile on the "My Account" section of the Site.
We keep your data only for the time it takes for the purposes pursued, in accordance with legal requirements, including:
Login and profile data:

5 years after you last used our platform, if you haven't closed your account;
If your account has been suspended or blocked, we will keep your data for 2 years from the suspension to avoid any circumvention by your part of the rules in force on our platform.

Billing and contract data: 10 years
Visitor and commercial prospecting data: 3 years
Project validation data, certificates and diplomas: 50 years
Are you a minor?
We attach great importance to the safety of minors, which is why we do not collect the personal data of minors under the age of 15.
Our goal is to make education accessible to all, minors can access the Site to search for information.
Our platform does not include the registration, collection or storage of information about anyone under the age of 15.
You must read this Privacy Policy to ensure that you understand it.
When you gave your consent when you were minors, your personal data was collected.
You will be able to exercise your right to be forgotten if you no longer want your data to be in our databases.
What happens if SL-Institute services are used in relation to social networks?
We are not responsible for the use of data by social networks. You can set them up on their sites.
When you use social networks and SL-Institute services or applications in relation to social networks, this may result in the collection and exchange of certain data between social networks and SL-Institute.
We are not responsible for the use of your data by social networks on their own account. You have the ability to set up and control your data directly on social networks.
What are your rights?
In according with current EU regulations, we have procedures and mechanisms in place to enable you to exercise your rights.
In accordance with current regulations, users of our platform have the following rights:
Right of access and rectification;
Update, complete user data;
The right to lock or delete the data of Personal Users, when it is inaccurate, incomplete, equivocal, out of date, or where collection, use, communication or retention is prohibited;
The right to withdraw consent at any time;
Right to limit user data processing;
right to object to the processing of personal data;
the right to portability of the data that users will have provided, when this data is processed automatically based on their consent or contract.
If you want to know how SL-Institute uses this personal data, ask to correct it or object to a treatment you can send an email to the address admin@sl-Institute.com
Your requests will be processed within a month. If there is a reasonable doubt as to your identity, we may request that we be provided with additional information necessary to confirm your identity.
How to contact us – data protection officer
If you have any questions or complaints or would like to provide SL-Institute with recommendations or comments to improve our Privacy Policy you can email admin@SL-Institute.com.